Moving ... Moving
Sunday, October 30, 2005
I am so exciting to see my new office coming to completion. Since I am in this company, I had moved 4 times within 6 years, but that is like moving to the nest room, downstair to upstair ....
And now, we are really moving to our own building. The excitement is great.
Had a lot of frustration, pain, anger, etc during the process of discussion, making decision and so on ..... But the joy of giving everyone a better working environment keeps me going until today ;) Trust me, it's not a simple task to see the renovation to completion.
Tentative schedule date to move in to the new office will be in 2 weeks time. Hurray !!!!!
Pink Lady - The Engineer
Monday, October 24, 2005
Going to be engineer tomorrow .. ahahahh Do not know what will happen. May be burn the factory or flood the lab?
Some thing Pink Lady have not done for about 6 months. This time is more challenging, she have to support a system she didn't design, program, nor involved at all. An old system purchase 5 years ago and already in the archieve of the archieve folder.....
Hm .... Why suddenly Pink lady became the engineer?
When My Heart Runs Dry - Matt Redman
Sunday, October 23, 2005
When my heart runs dry
And there's no song to sing
No holy melody
No words of love within
I recall the height fron which
The fragile heart has slipped
And I'll remember you
I will turn back and do
The things I used to do
For the love of You
Lord, I'll remember you
I will turn back and do
The things I used to do
For the love of You
You are my soul's desire
You are the hope within
You bring my heart to life
You make my spirit sing
Oh no !!! It's holiday again ??
Friday, October 21, 2005
Most of the time, people enjoy holiday. It's a time of rest and be lazy.But I don't quite like it due to the following reasons:
1) Need to think of what to do - normal day just go to office.
2) Sleep very late because the next day no need to work - bad for health
3) Wake up late the next day - cause headache
4) Somehow, someone will call early in the morning not knowing it's a holiday - worst thing that can happen is "wrong number"
5) Bad choice to go anywhere - surely very crowded everywhere
6) Super boring stay at home - need to clean up somemore
7) Finally will go shopping - spending whole month salary within few hours is not difficult
8) Tireness - after walking for hours and spent all the money (cash/credit card), soooo tire.
All the above happen today and I am going to end my day before 10pm. Good night.
Sungai gabai Photo Competition Result
Thursday, October 20, 2005
Ladies & Gentleman,
After much consideration the fair judge Pink Lady & Ann has the final result in their hands....
drum rolling......and rolling ....
The first prize goes to this ....
Second prize goes to this...
Third prize goes to this..
Winners, please claim our prizes from the judge personally....
(hint hint: Mango cookies ;0) I felt that this week is too short to be called "a week". Had a series of unfortunate events since last saturday.
I was in Malacca on Monday & Tuesday, so much to be done yet so little time. Came back to KL and having 3-4 important appointments for Wednesday. About 4pm, office flooded and caused a short circuit. Clean up the mess a bit after that and went for movie. No idea what type of show is "Transportor 2". Comedy? becuase someone laughed almost nonstop. Action? got some familiar Jackie Chan fighting sccene. No idea what the movie is about but anyhow, it's just a show. Went to Coffee Bean to lepak a while.
Oh no... it's Thursday now. Friday is a holiday for Selangor. There goes my "1 week".
The ultimate test
Sunday, October 16, 2005
Yesterday was an interesting dat with a lot fo events. But I guess the day was ended well with a good dinner in Kajang.. I really love the hot soup (pepper soup). Will definitely go back and visit the shop again.
Today I suppose to collect a PC from my office to brint donw to Malacca tomorrow. So after church service, I head towards office with my cute niece ...took the PC from 3rd floor and lockup the office.
It was so near yet so far ..... I just need another 5 seconds to put the PC into my car and something happen. The Pc slipped out from my left shoulder and move backward ... with a fast response, I stretch out my right hand trying to rescue. But it's a bit too late, I guess.... The PC was on the floor and I was stunt thinking about the files in the PC ;) felt pain on my right hand and Ii thought it's because of the knock from the PC, it's not. My thumb got cut and I cannot feel my finger anymore , tot I lost my finger... quickly I took out a piece of tissue and wipe off the blood. OK. doesn't look that bad, but pain.
My niece was in shock and have to console her while my finger still bleeding ...
Tested the PC and found out it is still working ;) however the casing is gone and some parts are loosen.
Thank God my finger is still here....
Every youngster's dream car
Saturday, October 15, 2005
My youngest brother just got my parent to by him a car last month - Hyundai Coupe. So happen I need him to send my car for "upgrade" ;) I exhange car with him. Kind of like not used to the dimension, seat, height, etc ... but still can cope. Drove it again today due to the upgrade caused some problems and need to send my car back for repair ...
Well, the feeling of driving a "sport car" is nice. I was my dream also to drive a 2 door sport car. Reasons:
1) It just some how draw people's attention. -> may be perasan lah(self concious)
2) Driving at normal speed (80KM/h) also you will see all cars in front of you just give way. I was driving my Wira at 120KM/h also sometimes just got ignored.
3) Don't feel the car is under power, really good accerelation power.
4) Much more stable compare to my Wira
Land of many tasty food
Tuesday, October 11, 2005
After 2-3 years or many be longer, I'm going back to the land of many tasy food again tomorrow ... Penang
I still remember the time I was in Penang 3 years ago ... It's really a torture for me and my colleague. We got stucked there for months, until my customer do not allows us to go back on Christmas and I got call on 3rd day of Chinese New Year , etc ... Well it's all over and started to miss the land again not long after the torture
I have already planned for the meals for this short trip:
3pm - Leave form Office (Puchong)
4:30pm - Tea time in Tapah
7pm - check in to our company apartment
8pm - Pulau Tikus's famous crab meat mee sua, pohpia, Char Kuey Teow, famous drink : Bak Po Gu Ni Beng
10pm - Supper in town, Famoud Cendol & Char Kuey Teow
next day ....
7:30am - Standard breakfast place - America breakfast choice of Cheese Ham Omelette, Chee Cheong Fun, Hokkien Mee & my favourite Milo Pekat
12noon - Lunch, not sure whether it;s provided or not. If not then let's go for Red Bean/ Corn Ice blended, another glass of Bak Po Gu Ni Beng, Chicken Rice, curry fish head
5:30pm - Quick bite of the famous Ah Ki Pancake with Egg, Raisin, Cheese, etc .. another glass of Bak Po Gu Ni Beng...
6:15pm - Buy some TaoSa biscuit back
6:30pm - Leave Penabg
7:30pm - Bukit Merah Esso Station's Pisang Goreng (Deep fried banana)
8:30pm - Dinner at Tapah
11pm - Reach Office again
Hehehe ... can't wait for my Bak Po Gu Ni Beng

Sunday, October 09, 2005
Went to Mines Wonderland for my nephew's dance performance. It was a very hectic week last week, I guess the weekend is good to have some music, have some peace in mind...

Saturday, October 08, 2005
Suppose to have 3 appointments today but cancel all to have double triple dose of my medicine (sleep). Woke up about 12 noon and felt boring at home. Take a look at my room, and I think I know what to do ;)
Before
After 15 minutes
Stupid Me
Friday, October 07, 2005
I think I'm the most stupid person in the world.
STUPID
STUPID
STUPID
Feel like hanging myself for my stupidness.

Thursday, October 06, 2005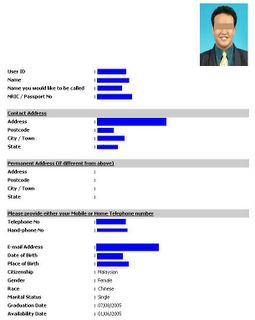 Came across this application while hunting for staff. For a moment I thought I was too tire reading resumes .... but this is really the wierd candidate....
ERUSSERP & ESNET
Tuesday, October 04, 2005
.SIHT EKIL ESNESNON OD DNA DAM SU EDAM DNA NEPPAH OD SGNIHT SEMITEMOS
Eventful Day
Monday, October 03, 2005
Another Monday again after another weekend. Planned to go to office earlier because I know Monday is always very interesting, lots of things to handle. Unfortunately got stucked in a bad bad bad jam from Bukit Jalil to Puchong. 3 accidents on the way and 2 on the opposite lane. I think you can imagine how bad it is.
SOTD (Story Of The Day):
Finally manage to get in 2 staff after months of interviewing and interviewing and interviewing....
Went back home about 8:30pm (today's OT is a bit early) and felt so tired, too tired and also too lazy to bother to have dinner. Need some rest as I'll be driving down to Malacca tomorrow. Another long day.
End my Monday by now and go to sleep... Zzzzz.... Song playing:
When The Tears Fall
I've had questions, without answers
I've known sorrow, I have known pain
But there's one thing, that I'll cling to
You are faithful, Jesus You're true
When hope is lost, I'll call You saviour
When pain surrounds, I'll call You healer
When silence falls, You'll be the song within my heart
In the lone hour of my sorrow
Through the darkest night of my soul
You surround me and sustain me
My defender, forevermore
I will praise You, I will praise You
When the tears fall, still I will sing to You
I will praise You, Jesus praise You
Through the suffering still I will sing
The world I live
Sunday, October 02, 2005
The world I live in, everyone can choose:
a name
a gender
an address
an identity
even to be dead or alive
It's the Virtual World.
Planet earth is good but the package comes with a lot of lesson of life that sometimes we do not wish to go through. I know these are lessons we need to learn, we need to grow up, etc ...
But I love to be in the Virtual World whenever I have a choice. I love meeting people, talking to people, build my life in the Virtual World. I love to be Pink Lady more than Christine. Oh no .. I think I'm sick.
Session
Saturday, October 01, 2005
It's an interesting session now in my life ...
Oppss ... I was about to write some "deep thought" but suddenly got a news of bombing in Bali.
Oh no... I made a bad joke 2 months ago just before I went to Bali.
If they bomb it 1 time(2002), the won't bomb it again. And if they bomb it the 2nd time, there won't be a 3rd time. If they really bomb it again, I'll see you all in heaven.
And they really
bomb
it 4 hours ago.
I cannot let my parent know about this bombing. Everytime when they know I'm travelling out of KL, they were so worried and they do not like it when I'm travelling oversea.
May be I should thank God that I went to Bali 1 1/2 months earlier. However still people died......